Public Defender's Office to Monitor Cases of Femicide
Date:
The Public Defender of Georgia, Mr. Ucha Nanuashvili, held a press conference together with Ms. Erika Kvapilova, Representative of UN Women in Georgia, in which he announced that his office will assume responsibility for monitoring gender-based killings of women in Georgia.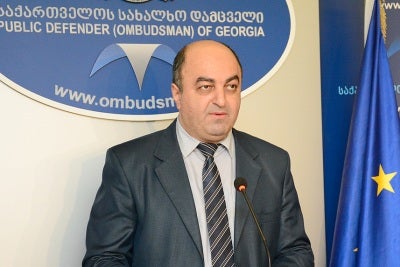 The initiative is in response to a call from Ms. Dubravka Ŝimonović, UN Special Rapporteur on violence against women, its causes and consequences, who called on all States in 2015 to commit to preventing gender-related killings of women, to establish a femicide watch and to publish a detailed analysis of cases each year on 25 November. The Special Rapporteur included this same recommendation in her country report following her official visit to Georgia in 2016.
According to the Public Defender, 21 cases of femicide were reported in 2016, and a few days ago, a man stabbed his wife, who died of 8 wounds to her breast. This was not the first case of femicide in 2017. The Public Defender further commented that despite the seriousness of the problem, the State has yet to develop an approach to prevent the recurrence of this type of violence, nor has it conducted an evaluation of the risks. The situation is further complicated by a lack of statistical data or analysis of femicide cases to inform a preventative approach.
"Bearing in mind the seriousness of the problem of femicide and its negative impacts on equality and human rights in the country, I declare that the Public Defender's Office will be the institution that, within its mandate granted by law, will monitor the gender-related killings and attempted killings of women, as well as each case that pushes a woman towards suicide," said Public Defender Ucha Nanuashvili.
As part of the monitoring process, the Public Defender's Office will analyze relevant court decisions in detail to evaluate the real scale of the problem of femicide, the applied measures of protection and prevention and the obstacles to addressing the issue. In addition, the Public Defender's Office will study available statistical data and information on investigations and criminal prosecutions conducted by law enforcement agencies.
"Monitoring of cases of femicide is an important mechanism to improve prevention of gender-based killings. Femicide data and analysis also contribute to achieving targets under Georgia's nationalized SDG 5", said Ms. Kvapilova, Representative of UN Women in Georgia. She congratulated the Public Defender's Office - the second Ombudsman's office in the world, the first being Argentina, to undertake the responsibility for monitoring femicide cases.
Mr. Ucha Nanuashvili expressed hopes that the State and non-governmental organizations will closely cooperate with the Public Defender's Office in the monitoring process.