In the words of Ketevan Chumbadze: "Women involved in peace processes provide support for addressing the needs of conflict-affected women"
Date: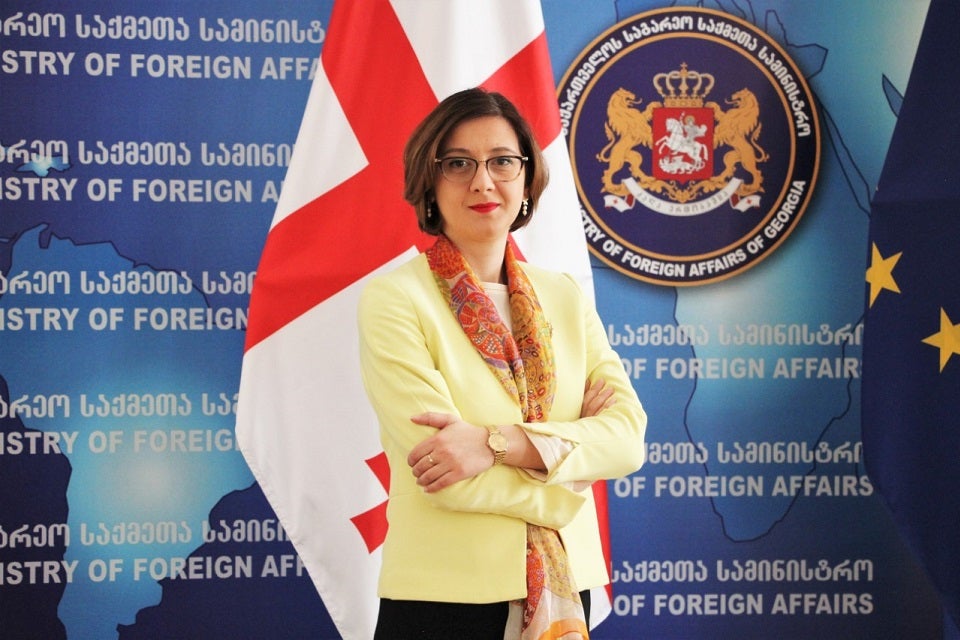 Ketevan Chumbadze, Deputy Political Director of the Ministry of Foreign Affairs of Georgia (MFA), is a member of the Georgian delegation to the Geneva International Discussions (GID) and is engaged in the security working group. She is also involved in track 1.5 dialogues and is a trainer for UN Women and Levan Mikeladze Diplomatic Training and Research Institute. Ketevan Chumbadze leads a training course for public servants on gender and inclusive peace processes that has been developed with the support of the UK Government within the framework of UN Women project "Strengthening Women's Meaningful Participation in Peacebuilding and Gender Mainstreaming in the Security Sector in Georgia". Within the trainings she shares her experience with other women to encourage their participation in peace processes.
I got involved in peace dialogue processes before starting my diplomatic career. That experience helped me a lot at the MFA, especially when I started working on conflict resolution issues and became a participant of the GID - the negotiations between Georgia and Russia that are held with the EU, UN, OSCE co-chairmanship and the US participation to address the issues related to the implementation of the Ceasefire Agreement, return of IDPs and refugees, as well as security and human rights problems in conflict-affected areas. Engagement in the peace process and working on conflict related issues, obviously, is a huge responsibility: you are always mobilized, trying not to miss anything, and doing your utmost in limited time.
My team at the Political Department of the MFA is gender-balanced and inclusive, that significantly facilitates the implementation of inclusive peace process from our side. During the negotiations, we are trying to promote human dimension along with security issues, and are raising the problems of people living in Abkhazia and Tskhinvali regions as well as villages adjacent to the occupation line, particularly, focusing on the needs of conflict-affected women. We spare no effort to promote the WPS agenda at the MFA and beyond.
There are many examples, which vividly demonstrate that women involved in peace processes provide support for addressing the needs of conflict-affected women. However, throughout the world and also in Georgia women, especially young, are still facing many visible and invisible barriers to overcome in order to participate meaningfully in peace processes and negotiations. With the support of UN Women, I often participate in international conferences on WPS, and every time I listen to the women involved in peace talks in different parts of the world, I realize how similar challenges are everywhere, despite cultural differences.
This year marks the twentieth anniversary since the adoption of UN SCR №1325 on WPS. Evidently, there has been a progress, and statistics demonstrate the same: women's engagement is further consolidated on both negotiators and mediators' parts; greater focus is placed on the rights and needs of conflict-affected women; number of gender-sensitive and gender-inclusive peace agreements is increased. But are the figures sufficient? And are these results making a substantial difference? Of course not.
Many gender stereotypes continue to prevail. Hence, we need to further consolidate efforts for raising more awareness, especially through sharing personal experiences and stories. The training that we are conducting serves the same objective - it goes beyond the theoretical aspects of inclusive peace processes and provides personal experiences.
Our history is rich with examples of women leaders who have made significant contributions to the development of the Georgian statehood. Even today, there are many strong, powerful and highly qualified women in Georgia, who work in the field of diplomacy or security, and continue to demonstrate the need for women's meaningful participation through their daily endeavors. I think, it is extremely important that these smart and courageous women provide further support in fostering gender equality and promoting the WPS agenda in our country."