CSOs consider gender commissions to improve peace talks
Date:
UN Women, supported by the UK Government's Conflict, Stability and Security Fund, convened a regional meeting of CSOs to advance women's participation in peace processes.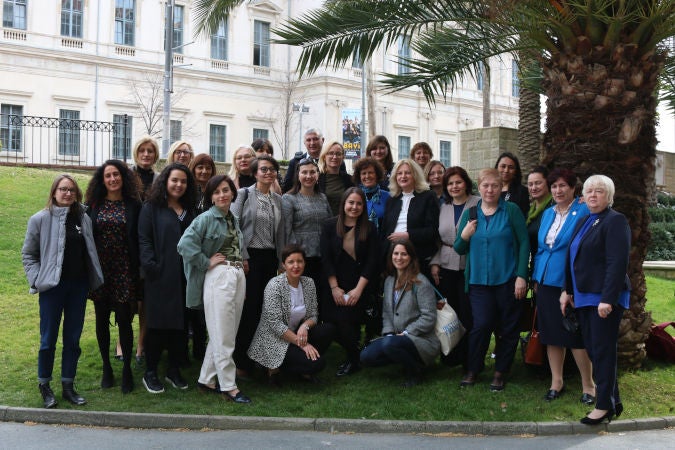 Civil society representatives from the Balkans, South Caucasus and Central Asia called for a permanent coalition or network of women civil society organizations (CSOs) in the region to convene on a regular basis to consult on building sustainable peace in the region. Their meeting underlined the importance of transforming existing peace talks and the possibilities of establishing gender commissions and women's advisory boards to make these processes more inclusive and gender responsive.
"We want to make 2020 a turning point for gender equality; it will amplify women's voices and identify strategies to better facilitate their impact on decision-making processes and secure peaceful societies," emphasized Blerta Cela, UN Women Deputy Regional Director for Europe and Central Asia in her opening remarks.
This year marks the 20-year anniversary of the ground-breaking UN Security Council Resolution 1325, which was the first resolution to link women's experiences of conflict to the international peace and security agenda. On 27-28 February 2020 in Istanbul, UN Women brought together 25 civil society representatives from across the region to discuss 20 years of the Women, Peace and Security (WPS) agenda. Resolution 1325 is its cornerstone.
Focusing on women's meaningful participation in peace processes, key achievements and lessons learned, attendees also examined the challenges associated with promoting gender-inclusive peace processes, and innovative ways to transform protracted conflicts and achieve sustainable peace locally and regionally.
Two decades after the landmark resolution, significant progress has been made to advance the Women, Peace and Security agenda. Evidence has emerged that women's participation in peace and security and humanitarian processes makes the peace process more effective, and their direct and meaningful participation in peace negotiations increases the sustainability and quality of the peace.
In addition, a recent study also found that women civil society groups play a critical part in peace processes. Particularly, strong linkages and collaboration between diverse groups of women, such as delegates, civil society organisations, and local civil society activists are crucial for the inclusion of provisions in peace negotiations that address social inequalities, especially gender inequality.
However, barriers persist despite the Women, Peace and Security commitments. As long as women are largely excluded from negotiating peace, they will not have full, equal, direct and meaningful participation in peace processes.
The meeting participants issued concrete and actionable recommendations to remove obstacles to women's meaningful participation in peace processes at formal and informal levels. Drawing on their different experiences, the women's rights and peace activists stressed the importance of changing the approach to existing peace talks, and suggested the creation of gender commissions and women's advisory boards so that women are more integrated into the peace processes and those negotiations are more gender responsive.
"Women need to participate in peace and security, not only because they are half of the society, but also they suffer more during conflict. Listening to them means building policies that better address the problem," stated Eralda Cani from the Association of Women Peace and Security, Albania.
"To hear and promote the voices of people, who have been directly affected by the conflict, is very important," said Eliko Bendeliani Chairperson of the NGO Center for Peace and Civic Development.
"I care about meaningful participation. Our study shows that women who are in civil society or who are in touch with civil society can make a real difference," highlighted Ayşe Betül Çelik, Professor at Sabanci University and founding member of Turkish Antenna of Mediterranean Women Mediators Network.
The regional consultative meeting of CSOs on WPS was organized by the UN Women and funded by the UK Government's Conflict, Stability and Security Fund (UK CSSF).