Electronic course launched to raise awareness on gender equality
Date:
It is impossible to achieve gender equality and to respect women's rights without raising public awareness. To that end, an electronic course developed through the joint initiative of the Public Defender of Georgia and UN Women represents an important step taken towards this direction.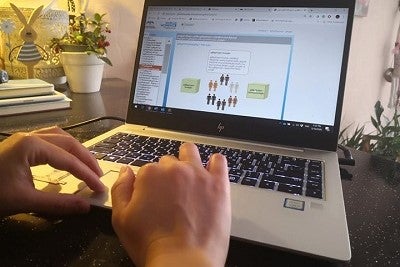 The free e-course in Georgian provides key and useful information to interested individuals about gender equality and the issues that are relevant to women's rights. Key terms, issues of sexism, existing gender stereotypes and discriminatory norms, the significance of gender equality and local and international legislation - these are just some of the topics incorporated into the course. It provides practical knowledge that will help individuals not only raise their awareness but also conduct their professional activities. Any citizen can complete the course any time convenient for them.
As Nino Lomjaria, Public Defender of Georgia, points out, one of the most important areas of activities of the Public Defender's Office is focused on raising public awareness. This is why the dissemination of gender equality principles represents a special priority for the agency.
"I think that now, when many public and private entities have shifted to online working mode amid the pandemic, the access to online education is even more important," Ms. Lomjaria explains. "I hope that the e-course on gender equality will be a good platform for many people not only to get information about the terminology and key concepts, but also to get familiar with the current legislation in the country and the protection and support mechanisms, as well as to deepen their knowledge about women's economic empowerment strategies."
The interactive course comprises three modules and respective exercises. It will take an interested individual only a few hours to complete it, and a certificate is issued after the successful completion of the course. It is noteworthy that the course was recently launched on 27 April 2020. As of now, there are 1,700 users registered, and 500 individuals have already received their certificates.
The e-course is a version of the module developed by the international UN Women Training Centre and has been tailored to the Georgian context. Its adaptation was made possible within the framework of the UN Women project "A Joint Action for Women's Economic Empowerment in Georgia", implemented with the generous funding of the Ministry of Foreign Affairs of Norway.