UN Women presents "Conflict, Gender and Peace" textbook
Date: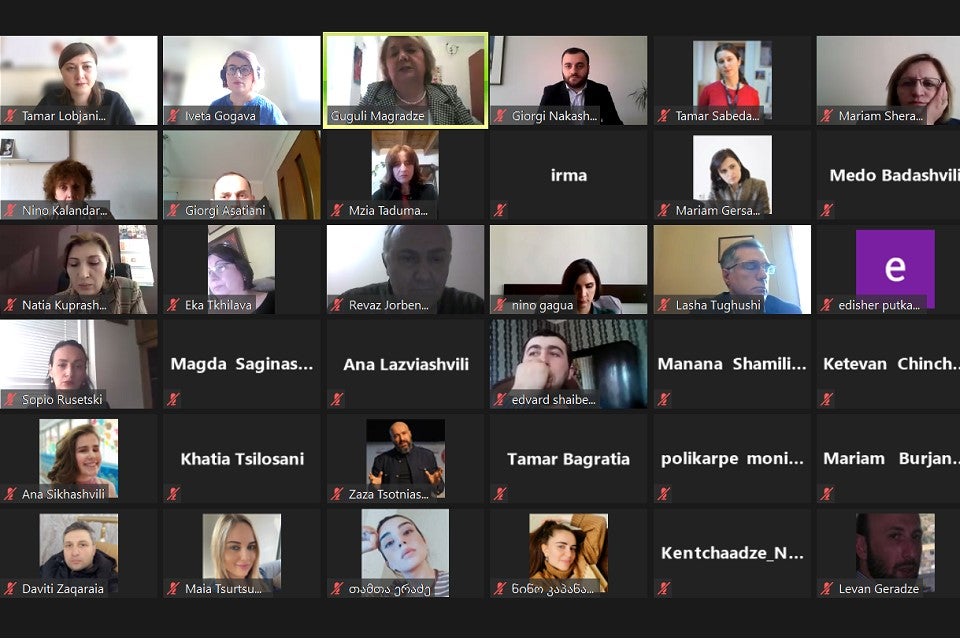 One of the most effective ways to promote the women, peace and security agenda (WPSA) is to integrate it into different levels of higher education and offer it to the students interested in the topics of gender, conflict and peace. Towards this end, the availability of relevant teaching materials, especially in students' native language, is critically important.
The textbook "Conflict, Gender and Peace", prepared in Georgian language with the support of UN Women, is intended specifically for students of higher education. It provides an overview of the basic concepts and theories of gender, conflict, and peace, the main areas of the WPSA, its history of development, as well as achievements and remaining challenges. On 30 March 2021, UN Women presented the textbook during an online event.
Tamar Sabedashvili, UN Women Country Representative a.i. in Georgia, highlighted the progress and challenges that have taken place over the past 20 years since the adoption of UN Security Council resolution 1325 (2000) on Women, Peace and Security. She noted that the first edition of this textbook was prepared in 2003 with the support of the United Nations Development Fund for Women (UNIFEM). This updated edition offers more information, especially in terms of sharing lessons learned over the past years including on the challenges and barriers that need to be overcome to ensure women's meaningful participation in peace and security processes.
Guguli Maghradze, the director of the Institute of Conflict Analysis and Management at Tbilisi State University and one of the initiators and co-authors of the textbook, mentioned that the handbook provides exhaustive information on academic fields of gender, conflict and peace in its entirety to students of higher education and beyond. "Gender inequality is a social construct expressed in power relations and requires structural and conceptual approaches, and this textbook serves to this purpose to have a knowledge and understanding of these approaches," noted Ms. Magradze.
UN Women plans to introduce the new textbook to higher education institutions in order to integrate it into their curricula. The participants of the meeting expressed confidence that it will be actively introduced to academia. This will increase a research interest towards the WPSA, gender analysis of conflict, conflict transformation, and contribute to highlighting an important role of women and their meaningful participation in peacebuilding.
The presentation of the textbook was held within the framework of the UN Women project "Accelerating implementation of Women, Peace and Security Agenda in Georgia", supported by the UK Conflict, Stability and Security Fund.