Women spend five times more on unpaid care work compared to men, Georgia's first Time Use Survey finds
Date: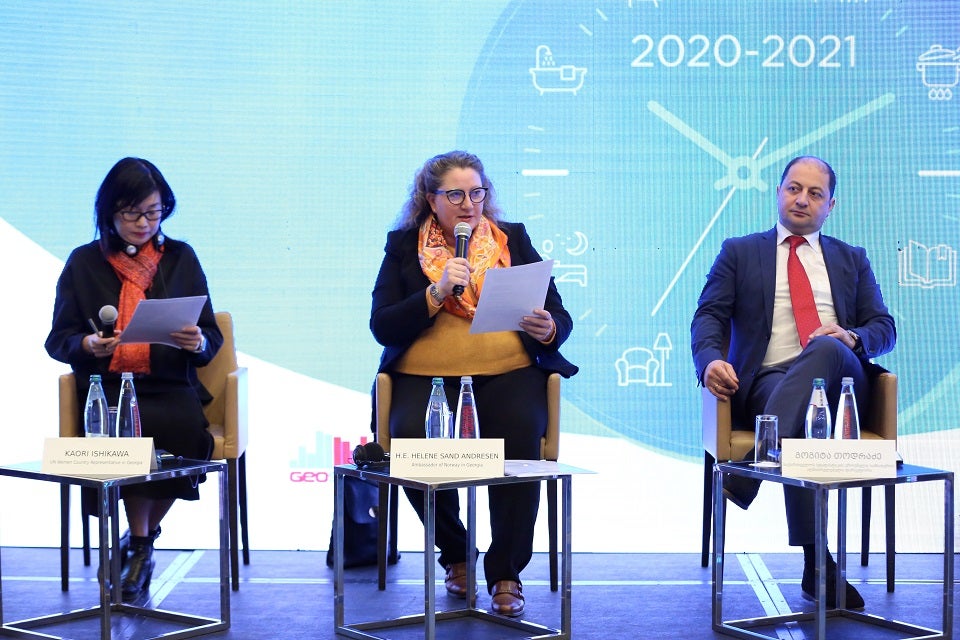 Since the early twentieth century, over 250 Time Use Surveys have been carried out in more than 80 countries, generating data on the time spent on paid and unpaid work by women and men and shedding light on women's disproportionate share of the world's unpaid work. In Georgia, this data was unavailable until recently. UN Women and the National Statistics Office of Georgia (Geostat) filled this data gap releasing the results of Georgia's first Time Use Survey on 09 December 2022.
Georgia's Time Use Survey revealed that women in Georgia spend almost five times more on unpaid domestic and care work compared to men. Being married and having young children significantly reduces women's likelihood to engage in paid work and their weekly labour market work time on the one hand, and increases their time spent on domestic and care work on the other hand. Mothers, on average, spend 20.4 hours on childcare per week, compared to 3.9 hours spent by fathers.
The data also shows that women have less free time (1.2 hours per day) compared to men (1.8 hours per day), spend less time on social and community interaction activities (2.1 hours compared to 2.8 hours) and are more likely to experience time pressure (32.6%) compared to men (25.1%), which has adverse effects on their physical and mental health and wellbeing. As a result there are stark differences in time poverty for women and men with more women (51%) experiencing time poverty compared to men (40.9%).
"The key objective of the Georgian Time Use Survey was to generate internationally comparable time-use data to monitor, and report on, the volume of unpaid domestic and care work in Georgia. In addition to generating internationally comparable time-use data, the study informed the baseline indicators for relevant SDG targets. The findings of the study will further provide policy makers with evidence to inform relevant state policies on gender equality," - Gogita Todradze, Geostat's Executive Director said at the study presentation bringing together up to 100 representatives from the legislative and executive governments, development partners, civil society organizations and academia.
As women globally spend three times longer on unpaid care work than men, women's disproportionate share of the world's unpaid care work continues to be a major impediment to gender equality and women's economic empowerment. "We hope that the data generated by the study will serve as the catalyst for sparking a national debate about the value of care and the gender inequality crisis in Georgia. It is also our sincere hope that the findings of this study will inform government policies to reduce the disproportionate share of unpaid care work carried by women and girls and to redistribute care responsibilities equitably between women and men in households, communities, the world of work and indeed the State." - UN Women Country Representative in Georgia, Kaori Ishikawa said.
The Time Use Survey was implemented within the framework of the "Good Governance for Gender Equality in Georgia" project funded by the Norwegian Ministry of Foreign Affairs and UN Women's flagship programme Making Every Woman and Girl Count.