Regular dialogue with civil society representatives on the Geneva International Discussions continues
Date: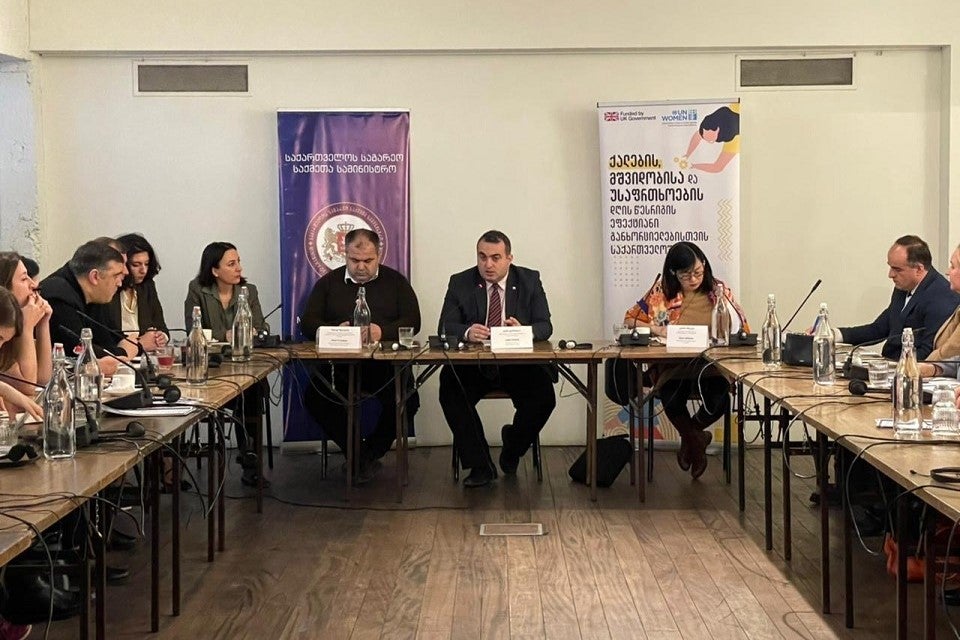 UN Women continues to support regular information-sharing meetings on the Geneva International Discussions (GID). The meetings are aimed at promoting the meaningful participation of women in the peace processes, as well as addressing women's needs and priorities. In cooperation with the Ministry of Foreign Affairs of Georgia, a meeting was held on 16 December with non-governmental organizations, among them the representatives of women's civil society organizations.
The meeting aimed at sharing information on the outcomes of the 56th round of GID and current challenges, as well as Women, Peace and Security agenda mainstreaming within the process. During the meeting, participants discussed the work in the GID, the Government of Georgia's policy on peaceful resolution of conflicts, and existing challenges. In addition, the discussion covered the importance of the integration of gender perspective in the negotiation process. Mr. Lasha Darsalia, First Deputy Minister of Foreign Affairs, spoke about the difficult situation in regard to security and human rights in Abkhazia and the Tskhinvali region/South Ossetia, and the GID continuation and progress, the activities carried out by the Government of Georgia to solve the conflict peacefully and the challenges faced. He also emphasized the importance of participation of women in this process.
Mr. Zviad Zviadadze, Head of Department of Autonomous Republic of Abkhazia and Former Autonomous District of South Ossetia, Office of the State Minister of Georgia for Reconciliation and Civic Equality, discussed the steps made by the Government of Georgia towards trust and confidence building of the divided communities. He also spoke about the ongoing programmes and future activities planned.
The meeting was attended by field experts and the representatives of international organizations, the diplomatic corps and civil society organizations. "For greater inclusion of women in the GID and to take into consideration their needs and priorities, it is essential that besides the official format, an informal platform and space is established for the meetings with the NGO sector and representatives of women's civil society organizations," said Ms. Julia Kharashvili, Chairperson of the IDP Women Association "Consent".
Regular informational meetings on the GID are organized within the framework of the UN Women project "Accelerating Implementation of the Women, Peace and Security Agenda in Georgia", generously funded by the UK Conflict, Stability and Security Fund.