UN Women supports ethical media coverage on the Women, Peace and Security Agenda
Date: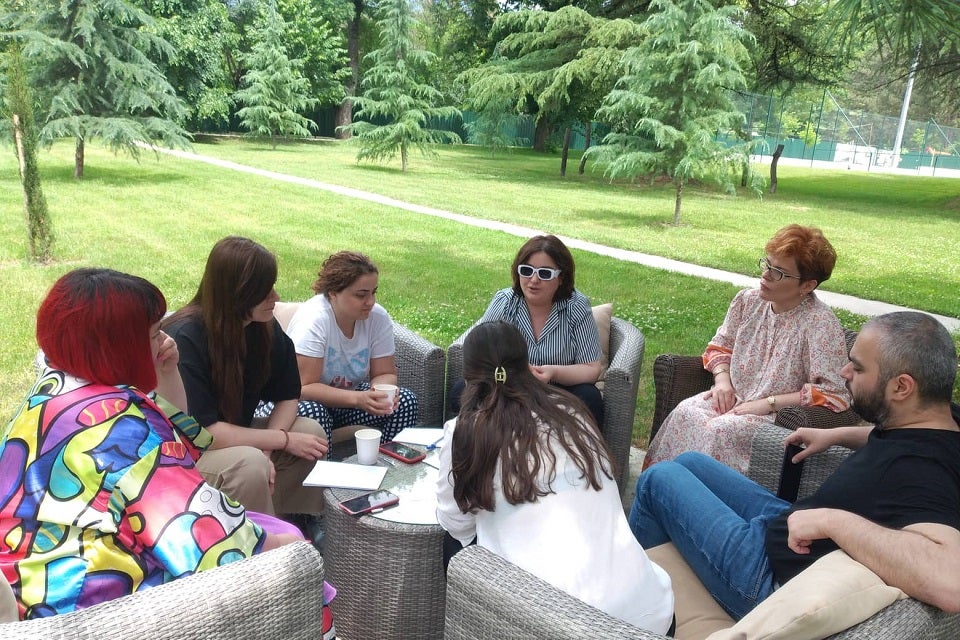 Recent developments around the world have brought women, peace and security issues to the forefront of media attention. Journalistic knowledge of the gendered aspects of war and conflict, the differing needs of women and girls, ethical media coverage and the existence of relevant guidelines have become even more pertinent as the media faces innumerable challenges.
Considering the interest of journalists, alongside the importance of the topic, UN Women, in cooperation with the Georgian Charter of Journalistic Ethics, held a two-day workshop for the Charter Council and representatives of various media outlets.
At the workshop, the participants were introduced to the Women, Peace and Security Agenda, UN Security Council Resolution 1325 and its subsequent resolutions, as well as the Georgian commitments and related National Action Plans. In addition, these journalists were informed about the importance of the meaningful participation of women in conflict prevention, management and resolution, and peacebuilding processes, as well as about conflict-related sexual violence and relevant security risks, access to public services, physical and mental health, humanitarian activities and the importance of the context, amongst other key issues.
The seminar was attended by a total of 17 participants. Media representatives soon reflected on the challenges of covering these topics and discussed ways to address them. Notably, the guidelines that UN Women, in cooperation with the Georgian Charter of Journalistic Ethics, are developing on the gender-sensitive coverage of war, in conflict and post-conflict situations, were also discussed during the meeting. The document, which is scheduled to be published in the near term, will focus on adhering to media standards when reporting on the Women, Peace and Security Agenda.
The Executive Director of the Georgian Charter of Journalistic Ethics, Mariam Gogosashvili, highlighted that "the ethical coverage of the issues related to women and girls during war and conflict, as well as in the post-conflict period, is a great challenge. It is important that the media present their needs and avoid further stereotyping. The issues discussed at the workshop helped us identify problematic topics. The feedback received, along with the interesting and necessary accents for the media, will be reflected in the guidelines being prepared with the support of UN Women."
The initiative is a part of a core UN Women project – "Accelerating Implementation of the Women, Peace, and Security Agenda in Georgia" – and supported by the Conflict, Stability and Security Fund of the Government of the United Kingdom.