UN Women celebrates International Girls in ICT Day
Date: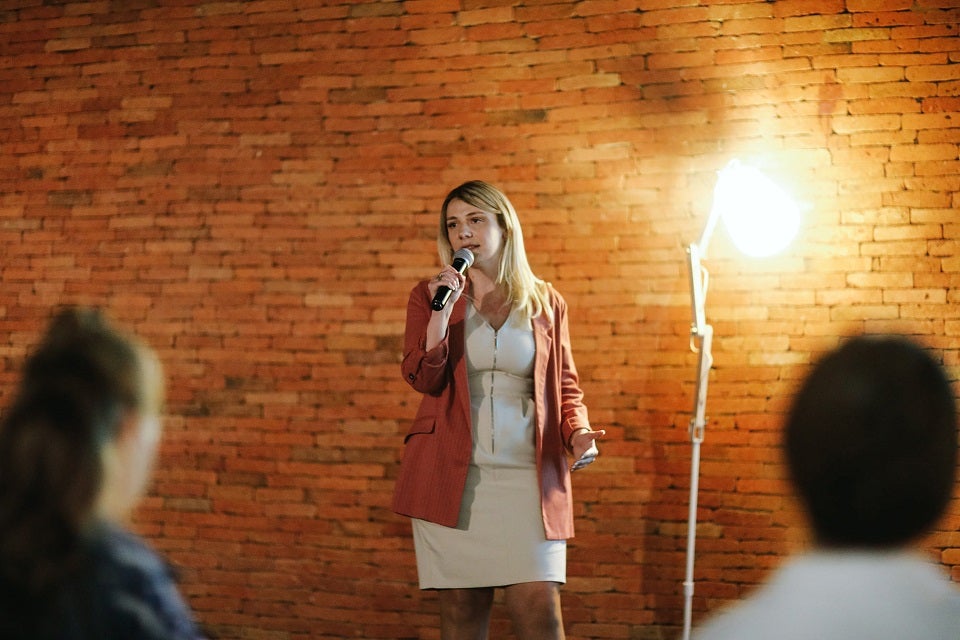 What are the challenges women and girls face in the field of information and communications technology (ICT), and what are some real-life examples of overcoming such challenges? Six women engaged in the ICT sector shared their impressive stories with the audience gathered for PechaKucha Nights.
The event, sponsored by UN Women and the Tbilisi Startup Bureau, was dedicated to International Girls in ICT Day. The purpose of the event was to remind the public once again of the importance of providing women and girls with equal career opportunities in this field. The participants placed special emphasis on this very issue in their informal speeches, covering a variety of areas including cybersecurity, data science, IT projects and the like.
"PechaKucha-type events allow us, the speakers, to share real-life experiences with women and tell them that the prevailing view - that ICT is a male-only profession - is actually a stereotype," said Nino Dzamashvili, Quantori Georgia's IT project manager and one of the keynote speakers.
Participant Lolita Rurua, a data scientist in the Risk Department at Liberty, added: "I think it's necessary to use all of the technical platforms to stimulate women's interest and raise their awareness so that, without the influence of stereotypes, everyone is enabled to equally choose and do what they really love."
It should be noted that the special guest for this meeting of PechaKucha Nights was Linda Pereira, a businesswoman and technology industry trainer who has won numerous prestigious awards. She shared with the audience five strategies for success in business.
PechaKucha Nights is a meeting space that encourages innovators, entrepreneurs and change makers to share their ideas and projects with an audience. Devised in Tokyo in 2003 by young designers, the event is now held in more than 1,200 cities. PechaKucha Nights was held in Georgia for the fourth time with the support of UN Women. Partners of the event were Liberty (a signatory to the United Nations Women's Empowerment Principles), the Friedrich Newman Foundation for Freedom in the South Caucasus, and THE Crossroads.
UN Women has supported and promoted women and girls in the field of ICT since 2019. Support for PechaKucha Nights is also part of the Women's Economic Empowerment component of the project "Good Governance for Gender Equality in Georgia", which is implemented with the financial support of the Government of Norway.