Georgia makes new commitments for gender equality
Date: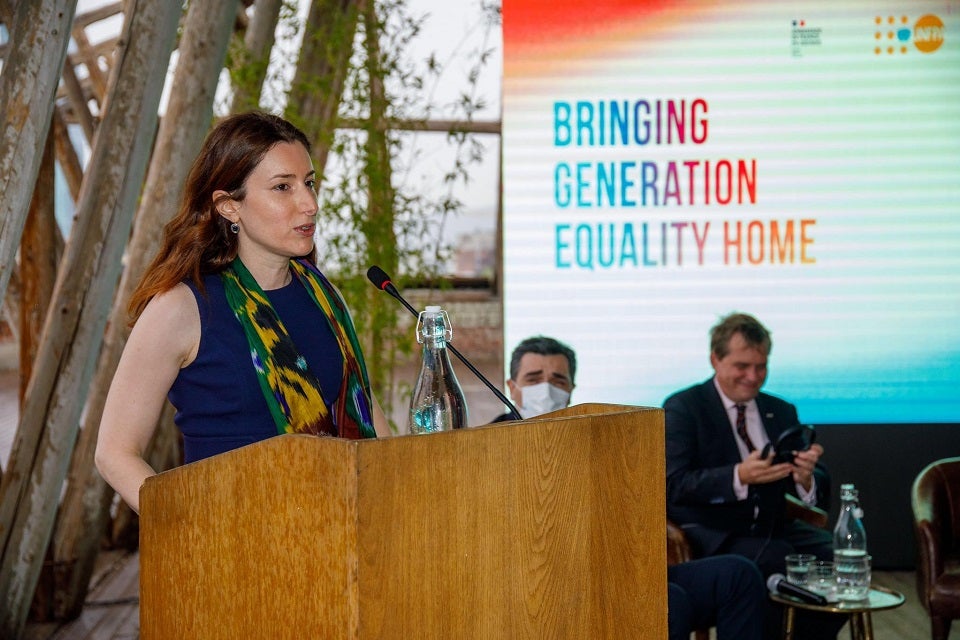 A day before the Generation Equality Paris Forum, Georgia joined the global movement and made new commitments to strengthen gender equality.
At the event on 29 June in Tbilisi, initiated by the Embassy of France, UN Women and the United Nations Population Fund in Georgia, it was officially announced that the Georgian Government will facilitate the implementation of new commitments in two thematic areas, strengthening efforts to combat gender-based violence and support the increased participation of women in technology and innovation.
"Achieving gender equality and protecting women's rights is an unfulfilled promise - the world made this promise to women and girls at the Beijing International Women's Conference more than 25 years ago. The Generation Equality movement enables the Government as well as civil sector representatives to make their contribution to the fulfilment of this promise," said Tamar Sabedashvili, Acting UN Women Country Representative in Georgia.
The French Ambassador to Georgia, Diego Colas, noted in his welcoming speech that the forum puts equality between women and men, girls and boys at the top of the post-COVID-19 reconstruction agenda: "From 30 June to 2 July, this forum, held in Paris, will unite representatives from many countries, international organizations, associations and private partners to make ambitious commitments and form targeted action coalitions. This participation underscores the quality of the common ideals that exist between France, the European Union and Georgia."
The event was attended by the representatives of the Parliament and the Government of Georgia, members of the diplomatic corps, the Public Defender of Georgia and local partners. "We, the representatives of the State, on behalf of the Gender Equality Council, have voiced the important directions and commitments with which we will join other States at the Paris Forum and will declare that the fight for gender equality continues," said Nino Tsilosani, Member of Parliament of Georgia and Chairman of the Permanent Parliamentary Gender Equality Council.
At the event, Ambassador Colas also revealed the winner of the Human Rights Award of the French Embassy for 2021. The award for promoting universal access to sexual and reproductive health and rights was given to the multimedia platform GrlzWave.
The Generation Equality movement, initiated by the United Nations, launched this year. In the reality transformed by the challenges of COVID-19 worldwide, it is succeeding in creating a new space to fight for women's rights and gender equality.