Georgia's first-ever Time Use Survey taking start
Date: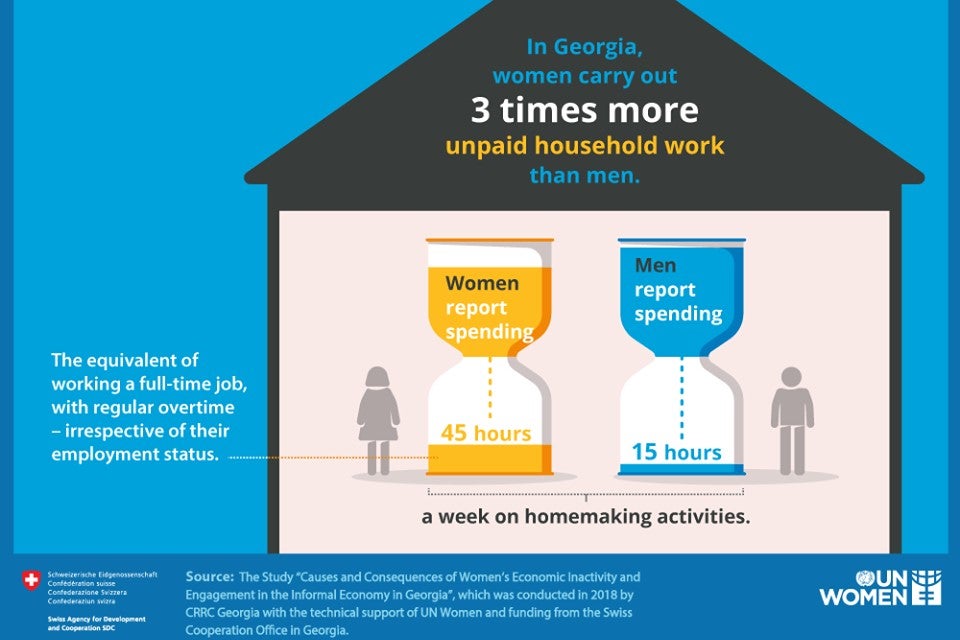 As women globally spend three times longer on unpaid care work than men, women's disproportionate share of the world's unpaid care work continues to be a major impediment to gender equality and women's economic empowerment.
The movement to recognize and value unpaid care work, which falls almost exclusively on women, has a powerful ally - the Time Use Survey. Worldwide, Time Use Surveys measure the contribution of women's unpaid work to national well-being and analyse gender inequalities by uncovering the differences in time spent on paid and unpaid work by women and men.
In recent decades, over 250 Time Use Surveys have been carried out in more than 80 countries globally, but never in Georgia. To respond to this gap and ensure that internationally comparable time-use data is available for Georgia to monitor, and report on, the volume of unpaid domestic and care work, UN Women in partnership with the National Statistics Office of Georgia (GEOSTAT) and with the generous support of the Norwegian Ministry of Foreign Affairs is implementing Georgia's first-ever Time Use Survey.
Georgia's Time Use Survey is being designed in line with the globally established methodological guidelines and standards, and its fieldwork will be launched in September 2020. In addition to generating internationally comparable time-use data, the study will also inform the baseline indicator for SDG target 5.4: recognize and value unpaid care and domestic work through the provision of public services, infrastructure and social protection policies and the promotion of shared responsibility within the household and the family as nationally appropriate.
To ensure a coordinated approach and national ownership of the Time Use Survey among national stakeholders, the Time Use Survey Reference Group has been established. The Reference Group brings together national partners from government, the development sector, civil society and academia and provides a consultative forum for inputs, ideas and perspectives for the survey implementation. At the first meeting of the Time Use Survey Reference Group, which was held on 18 June 2020, GEOSTAT and UN Women presented and validated the draft survey methodology and discussed the relevance of the study objectives for policymaking.
"We are very happy about launching this very important project, which has never been carried out in Georgia," remarked Mr. Gogita Todradze, Executive Director of GEOSTAT. "The Time Use Survey represents a useful and unique source of information on how women and men divide their time between paid work and housework, among [other activities]."
Ms. Erika Kvapilova, UN Women Country Representative in Georgia, further commented: "The Time Use Survey will contribute to ongoing policy reforms as its findings can inform changes related to equal pay and non-discrimination in different areas, [as well as] the ongoing debate on the reconciliation of work and family life, the fair distribution of domestic and care work between women and men, parental leave [and other issues]. Conducting the Time Use Survey in Georgia is a very timely initiative, and we hope that it will serve different actors and different purposes."
The Time Use Survey is being implemented within the framework of the "Good Governance for Gender Equality in Georgia" project funded by the Norwegian Ministry of Foreign Affairs and UN Women's flagship programme Making Every Woman and Girl Count. The survey fieldwork will be spread over 12 consecutive months with study findings projected to become available at the end of 2021.