Georgian Government advances prevention efforts on sexual harassment
Date:
In 2019, the Parliament of Georgia adopted landmark legislation that establishes regulations for the response to sexual harassment. In light of the new regulations, UN Women is supporting the Government in strengthening the national response to sexual harassment.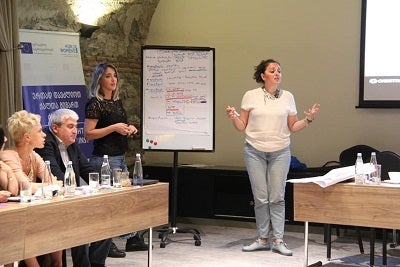 From 24 to 26 September 2019, UN Women and the European Union, in partnership with the Inter-Agency Commission on Gender Equality, Violence against Women and Domestic Violence, conducted a three-day workshop on sexual harassment. The workshop was held in Kakheti and brought together up to 20 communication professionals from government agencies. The initiative had a two-fold objective and aimed at strengthening the capacity of line agencies on the response to sexual harassment, as well as supporting the integration of sexual harassment issues into the Government's prevention work on ending violence against women. This includes the integration of sexual harassment issues into the National Communication Strategy and the Action Plan on Ending Violence against Women that were adopted in 2018 with UN Women and EU support. The workshop also aimed at supporting the Government in organizing the 16 days of activism against GBV on Sexual Harassment.
"Establishing a legal framework for combating sexual harassment is a major step forward," noted Marietta Akhvlediani, representative of the Public Defender's Office of Georgia. "Consistent communication, in the form of social campaigns, training or awareness-raising activities, has a unique role to play in preventing sexual harassment."
In 2017, UN Women, in partnership with GEOSTAT and with financial support from the EU, conducted the National Study on Violence against Women in Georgia, which found that 20 per cent of women have experienced sexual harassment in Georgia, of whom 10 per cent of women have reported experiencing it in the workplace. Such measures have further increased the public's awareness to sexual harassment, prompting the Parliament of Georgia to come forward with an initiative to regulate sexual harassment in the Georgian legislation.
Implementing preventive measures on sexual harassment responds directly to the commitments undertaken by the Government of Georgia under the Istanbul Convention, which, among other obligations, places the responsibility on the Government to regularly conduct awareness-raising campaigns to increase awareness and understanding among the general public on all forms of violence against women and girls, including sexual harassment.
The workshop was conducted within the UN Women/EU joint project "Unite to Fight Violence against Women in Georgia".