A High-level Event on Women's Participation in Political Decision-making Took Place
Date: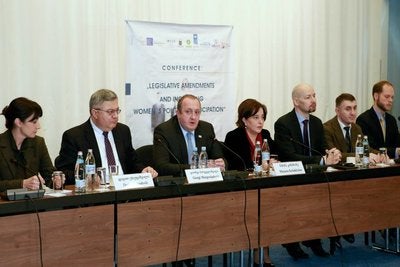 Giorgi Margvelashvili, the President of Georgia, who declared 2015 as the Year of Women, expressed his support for the increased participation of women in politics by introduction of mandatory quotas. "I firmly believe that if there is any place where women belong to make positive change in Georgia, that place is politics", said the President in his speech. David Usupashvili, the Speaker of the Parliament, who is the signatory of the HeforShe Campaign, also underlined his commitment to advocate for more women in decision making: "I support gender equality and women's empowerment and that is why I support introduction of quotas as a temporary measure to tackle systemic barriers for women's engagement in politics… It is time to move this discussion to the Parliament and address the issue through legislating", he stressed. "It is not enough to offer women seats on a bus, they need to have seats in the Parliament".
Representatives of political parties, civil society, UN and international organizations and diplomatic corps took part in the gathering. The high-level event was organized by Women's Political Empowerment Task Force uniting local as well as international development partners, including UN Women.
Since the parliamentary elections in October 2012, 17 women won seats in Parliament out of 150 MPs, making 12% of the members. This is a rise, in comparison to the Parliament of 2008, where women made only 6.4%. Despite the progress during 2012 Parlaimentary elections, this data remain as a low indicator of engaging women in decision making as confirmed by the Global Gender Gap Index of 2014 that ranked Georgia 94 out of 142 countries in relation with the political empowerment of women (ranking 107 in terms of women in parliament).