Crisis centres - An important service for victims of violence
Date: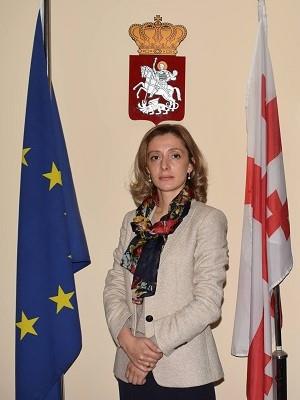 UN Women supports the Government of Georgia in setting up comprehensive services for the survivors of violence against women and domestic violence. This assistance is implemented with the support of the Government of Sweden and the European Union, and one of the important initiatives is to open crisis centres throughout the country. What services do the centres offer to survivors of violence, and what functions do they have? These are the topics addressed by Mary Maglaperidze, director of the State Fund for Protection and Assistance of (Statutory) Victims of Human Trafficking.
What services do the crisis centers offer, and what makes them different from shelters?
The crisis centres are also a state service and are intended for those who are survivors of violence against women and domestic violence, sexual abuse and trafficking but do not yet hold the status of victim. The crisis centres provide psychological and social rehabilitation and support to such people for free, and they also provide medical services and legal aid, which includes legal counselling and advocacy.
A crisis centre is not a residential service, and, unlike a shelter, it does not provide housing to the alleged victims. The only exception is the crisis centre in Tbilisi, which provides such a service for up to twelvedays if needed, in especially high-risk cases, provided victim cannot be immediately transferred to the shelter. At the same time, it should be pointed out that only those holding the status of victim are eligible for shelters, while those without such status can obtain services at crisis centres. We acknowledge that the victim status requirement is an impediment towards universal and free access to shelters and together with UN Women plan to address this issue in 2019.
How important is it that the services of crisis centres are available?
The need for crisis centres was shaped after a certain time. It was necessary to create a service that would assist the people who survived violence but did not need accommodation - a service that would guide them about how to obtain victim status, get information about their legal rights and other such help.
It is necessary to single out several issues while talking about the significance of this service. First of all, it should be pointed out that the staff carry out complex work: each centre has a social worker, a psychologist and a lawyer. They study each case as a multidisciplinary team and often identify problems in this process that the alleged victim has not realized before.
Another important feature of the service is confidentiality. It is possible to use the services of a crisis centre even without reporting to law enforcement officers. Of course, we advise everyone who approaches us to address the issue together with the police, but we provide assistance to the alleged victims even if they do not want police involvement.
How many centres are there now, and are there plans to increase their number in the future?
There are seven crisis centres functioning now in the country. One in Telavi (Kakheti) and another in Zugdidi (Samegrelo) are operated by NGOs, and we appreciate that the NGO sector is actively involved in providing this service.
The other five centres are located in Tbilisi, Marneuli (Kvemo Kartli), Gori (Shida Kartli), Kutaisi (Imereti) and Ozurgeti (Guria), and they are run by the Fund. All seven centres were founded and set up with the support of UN Women in cooperation with the government of Sweden, Poland and the EU.
Currently there are plans to open one more crisis centre in Batumi. At the same time, we are actively working on spreading the information about the crisis centres.