Increasing Capacities for Gender Responsive Budgeting at the Local Level
Date:
In 2012, Georgia's Budget Code adopted the programme budgeting approach, which required local governments to develop and implement programme budgets as of 1 January 2013. More than three years on, however, programme budgeting remains a challenge; it is still a relatively new concept that requires proper planning, budgeting and implementing capacities, especially at the local level.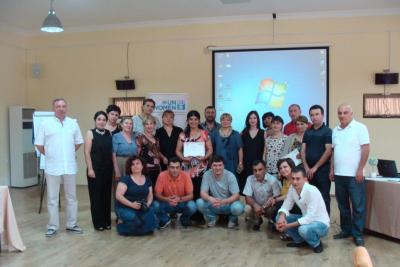 In 2013, UN Women assisted in establishing Gender Responsive Budgeting Working Groups (GRBWG) inthe local governments of five municipalities in Georgia: Zugdidi, Sachkhere, Marneuli, Gori and Tetritskharo. Since then, UN Women has been providing demand-driven technical assistance to the GRBWG to improve their knowledge on integrating a gender perspective in local planning and budgeting.
The most recent capacity development event for GRBWG – organized in close cooperation with the Association of Financiers of Local Self-governing Units of Georgia –took place from 27 to 30 July at Lopota, in the Kahketi region.
"I joined the working group in early 2016, and it was the first time I attended a training on GRB," noted Levan Bitsadze, Head of Sachkhere Municipality Finance Service. "Only after this training did I realize the importance of inserting a gender lens in every programme and subprogramme. It is of paramount importance that public budgets address the needs of men and women more equally."
Participants of the training drafted GRBWG action plans, affirming that each working group will partner with community-based organizations (CBOs) supported by UN Women to conduct outreach meetings with residents of local municipalities. The aim of the meetings is to discuss and assess the needs of the local population, both men and women. Round-table meetings in all five municipalities will take place in September 2016. It is expected that the needs analysed from a gender perspective will inform the 2017 local plans and budgets. CBOs will closely monitor if this has been the case and will advocate for any improvements in this respect.