UN Women intensifies initiatives to address violence against women in Guria
Date: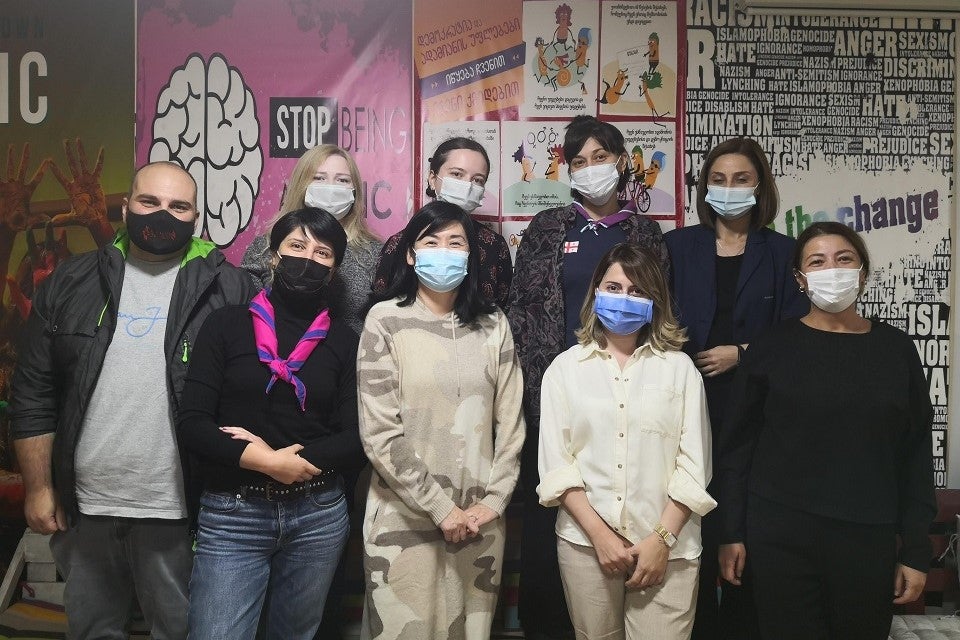 Supported by the European Union, UN Women is implementing various initiatives to address violence against women and domestic violence in Guria region.
On 12 and 13 October, Kaori Ishikawa, UN Women Country Representative in Georgia, conducted her first field visit to Guria region to be introduced to the progress of the initiatives on the spot.
Ms. Ishikawa has met with the representatives of "Dia", the Girs Scouts Association to discuss activities planned for the young people in Guria. With the support of UN Women, Dia is conducting series of trainings in Kvemo Kartli and Tbilisi. The training sessions cover the issues of sexual harassment and bullying, early and forced marriage, domestic violence and more. A total of 400 girls and 200 boys will be trained under this initiative.
Ms. Ishikawa has also attended the role play conducted by the SCO Women's Information Center. The initiative is implemented in two regions of Georgia - Guria and Kvemo Kartli. The aim of the role play is to help the participants experience real stories of survivor girls and women, thereby becoming more empathetic towards this problem. As part of this initiative, there will be 78 meetings organized by the Women's Information Center in nine municipalities, and 1,248 people (50 per cent women and 50 per cent men) will attend them.
"Georgia has been progressive in policy and law formulation to prevent and respond violence against women and girls. Through this project, UN Women also aims at changing negative gender streotypes and social norms within society and advance gender equality. In the time of COVID-19 pandemic, this project is highly relevant and important for women and girls in Georgia," noted Ms. Kaori Ishikawa, UN Women Country Representative in Georgia.
At the end of the visit, Ms. Ishikawa visited the crisis centre for victims and survivors of domestic violence in Ozurgeti and discussed plans and opportunities for its sustainability. The meting was hosted by Ms. Meri Maglaperidze, Director of the State Care Agency.
"As a result of the cooperation between UN Women and the State Care Agency, there have been a number of important projects implemented at the Agency over the years," Ms. Maglaperidze said. "Even now, the existing state services are significantly improved through our close cooperation, which provides targeted, tailored and speedy services to vulnerable groups."
The Ozurgeti Crisis Centre was opened in 2018 under the State Care Agency with the support of UN Women and the European Union. It offers psychological, social and economic assistance, as well as rehabilitation, medical, legal and referral services, to the victims and survivors of violence.
UN Women carries out number of initiatives in Guria region within the framework of the three-year-project "Ending Violence against Women and Girls in Georgia", implemented with the financial support of the European Union.