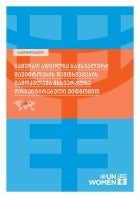 This manual provides practical guidance to public servants on handling workplace sexual harassment cases. It intends to support public entities in effectively responding to workplace sexual harassment complaints and creating a safe and supporting environment for women and men in the public service.
The Study on Workplace Sexual Harassment in the Civil Service in Georgia is a joint initiative of UN Women and the Civil Service Bureau of Georgia. The study aimed at generating evidence to inform policies on preventing and responding to workplace sexual harassment in Georgia's civil service.
The 2016-2017 National Action Plan of Georgia for Implementation of the UN Security Council Resolutions on Women, Peace and Security was approved by# 339 Decree of the Government of Georgia on July 21, 2016.