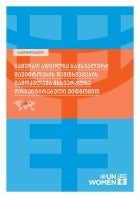 This manual provides practical guidance to public servants on handling workplace sexual harassment cases. It intends to support public entities in effectively responding to workplace sexual harassment complaints and creating a safe and supporting environment for women and men in the public service.
Lessons Learned from the National Study on Violence against Women in Georgia 2017 was developed by UN Women Georgia and the National Statistics Office of Georgia (GEOSTAT) with the financial support of the UN Women and WHO joint Programme "Strengthening Methodologies and Measurement and Building National Capacities for Violence against Women Data".
"The first step" is the publication of 8 stories written by Abkhazian, Ossetian and Georgian writers supported by UN Women Georgia Country Office. The stories talk about women's role in peace and security and confidence building. Before publishing the stories, Abkazian, Georgian and Ossetian writers had a workshop in Istanbul, Turkey in October 2014.