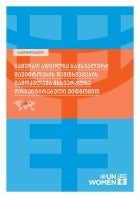 This manual provides practical guidance to public servants on handling workplace sexual harassment cases. It intends to support public entities in effectively responding to workplace sexual harassment complaints and creating a safe and supporting environment for women and men in the public service.
The Study on Workplace Sexual Harassment in the Civil Service in Georgia is a joint initiative of UN Women and the Civil Service Bureau of Georgia. The study aimed at generating evidence to inform policies on preventing and responding to workplace sexual harassment in Georgia's civil service.
This issue brief describes four different branches of institutional mechanisms for the advancement of Women in Georgia, highlighting their functions and roles in ensuring gender equality and women's empowerment in Georgia.