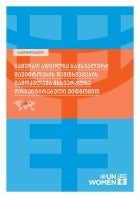 This manual provides practical guidance to public servants on handling workplace sexual harassment cases. It intends to support public entities in effectively responding to workplace sexual harassment complaints and creating a safe and supporting environment for women and men in the public service.
The Study on Workplace Sexual Harassment in the Civil Service in Georgia is a joint initiative of UN Women and the Civil Service Bureau of Georgia. The study aimed at generating evidence to inform policies on preventing and responding to workplace sexual harassment in Georgia's civil service.
In 2019, with the support of the Norwegian Ministry of Foreign Affairs, in partnership with the Innovative Education Foundation, Geolab, and Universities of Batumi, Kutaisi, and Tbilisi, UN Women launched a free web programming and social media marketing training program and internship for women in western Georgia.