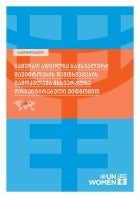 This manual provides practical guidance to public servants on handling workplace sexual harassment cases. It intends to support public entities in effectively responding to workplace sexual harassment complaints and creating a safe and supporting environment for women and men in the public service.
The Study on Workplace Sexual Harassment in the Civil Service in Georgia is a joint initiative of UN Women and the Civil Service Bureau of Georgia. The study aimed at generating evidence to inform policies on preventing and responding to workplace sexual harassment in Georgia's civil service.
The goal of the study was to identify the compliance of Georgia's existing laws and practices with respect to women offenders to the United Nations Rules for the Treatment of Female Prisoners and Non-custodial Measures for Women Offenders (Resolution A/Res/65/229), also known as the Bangkok Rules. The study has been commissioned by UN Women, under the EU-funded project "Innovative Action for Gender Equality in Georgia" (IAGE). The study was conducted by the Penal Reform...